Eden is a modern incarnation of one of the oldest, most refined and most versatile cocktail spirits in the world. Genever, also known as Dutch gin, has been enjoyed in the Low Countries and beyond for over 400 years. Eden brings this unique heritage back to life by combining the highest quality of grain spirit with a unique set of botanicals. We use a unique blend of fine korenwijn and malt wine aged for 3 years in barrels of American oak, while adding botanicals such as cardamon, Valencia orange, and grapefruit. With Eden's signature smooth tarragon finish, we believe we have combined the best of the old and the new.
Eden can be enjoyed neat or on the rocks, and also works well in a variety of cocktails. Try it alongside a refreshing beer as the Dutch do, mix it with fresh lemon juice, ginger beer and a few dashes of bitters for a refreshing Dutch Mule, or check out one of our unique tailored cocktails.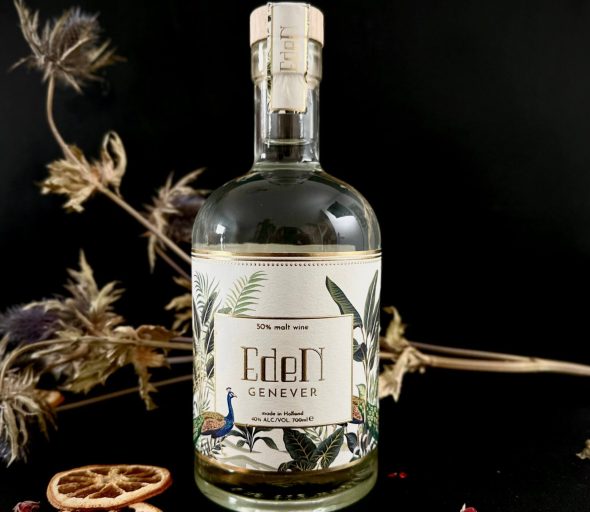 Eden is a collaboration of two friends who love good food, good drinks and fine spirits. We love genever and believe it is a vital part of Dutch heritage. Moreover, it is one of the most complex, unique and flavorful spirits in the world. Our mission is to bring genever back to everyone's table and help people discover new and exciting ways to enjoy this classic spirit, both inside and outside the Netherlands.
We try to do this by creating the best possible product. Eden is made in genever hometown Schiedam, using only the finest ingredients and distillation techniques. We invite you to experience first-hand the versatility of genever and the unique flavour profiles of Eden by trying out one of our very own unique cocktails or variations of your favourite classics